products:
Model 995FET-Ticha Discrete Op Amp

Updated March 8th, 2012

Model 995FET-Ticha Datasheet and Specifications PDF
Model 995FET-Ticha Purchase Online

General Description:
995FET-Ticha Discrete Operational Amplifier

The 995FET-Ticha is a high performance discrete operational amplifier designed for professional audio applications and areas where ultra-low noise and extremely low distortion is required. A true super matched pair FET input stage is incorporated to provide superior sound quality and speed for exceptional audio performance. This in combination with high output drive capability and excellent dc performance allows use in a wide variety of demanding applications. In addition, the 995FET's wide output swing, allows increased headroom making it ideal for use in any audio circuit.

The 995FET-Ticha opamp can be operated from ±10V to ±24V power supplies. Input cascode circuitry provides excellent common-mode rejection and maintains low input bias current over its wide input voltage range, minimizing distortion. The 995FET discrete op amp is unity-gain stable and provides excellent dynamic behavior over a wide range of load conditions.

The all-discrete design uses an ultra-precision differential matched FET pair specifically designed to meet the requirements of ultra-low noise and ultra-low THD audio systems. In addition to the enhanced super matched pair input stage, the 995FET uses high performance temperature stable, power supply independent current sources, dual matched pair temperature stable current mirrors, active current loads and an enhanced low distortion high performance Class-A output driver stage.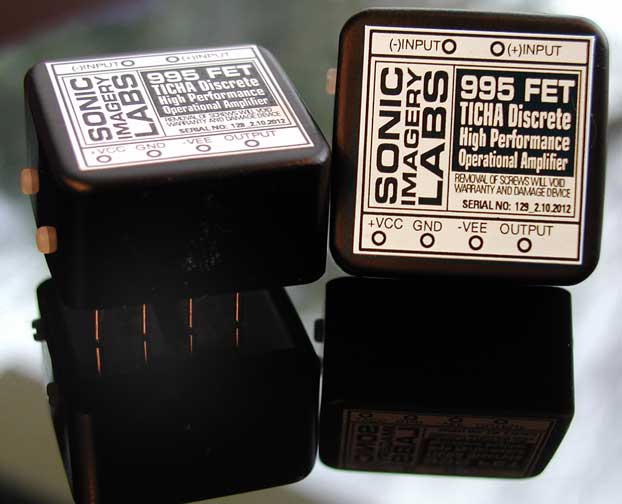 The 995FET-Ticha discrete opamp was designed as an enhanced upgrade replacement for the Millennia Media MM-99, MM990, Forssell Technologies JFET-993, JFET-992, or similar FET based op-amp gain blocks. The pinouts conform to the 990/2520 package type, allowing direct replacement.

Features:

• Ultra Low Total Harmonic Distortion, 0.0005 THD+N @ 1kHz
• Ultra Low Noise 1.1nV/rtHz
• High Current Output Drive (250mA into 75 ohms)
• +26.5dBu Output Levels (into 600 ohms)
• Class A Output Drive
• Standard Gain Block Footprint
• Operates over ±10V to ±24V supply rails
• Lower output offset voltage than existing counterparts
• Lower input leakage current than existing counterparts
• Particular emphasis on audio performance
• Designed, assembled and produced in the USA
• 3 Year Warranty

Applications:

• High Input Impedance Line Amplifiers and Drivers
• High Input Impedance Buffer
• Active Filters and Equalizers
• Summing/Mixer Amplifiers
• High Performance High Input Impedance
Instrument Preamplifiers
• High Performance A/D front end preamplifier
• High Performance D/A back-end driver

Specifications:

Model 995FET-Ticha Discrete OpAmp Datasheet and Specifications PDF
Model 995FET-Ticha Discrete OpAmp Purchase Online

See Also

Sonic Imagery Labs Model 994Enh-Ticha- Dual Discrete Op Amp DIP8
Sonic Imagery Labs Model 990Enh-Ticha- Discrete Op Amp 990/2520
Sonic Imagery Labs Model 992Enh-Ticha- Discrete Op Amp DIP8

Contact us directly for OEM and quantity pricing.

Why Use a Discrete Operational Amplifier?

1. When the best possible distortion performance is demanded. Most monolithic op-amps use Class-B or Class-AB output stages, and many of them (though certainly not all) show clear crossover distortion artifacts on the distortion residual. A discrete op-amp can dissipate more power than a monolithic integrated circuit (IC), and so can have a Class-A output stage, sidestepping the crossover distortion problem completely.

2. When the best possible noise performance is required. Precision matched pair field effect transistors can outperform monolithic IC op-amps, particularly with low source resistances. The most common examples are moving coil head amps, microphone preamps, summing structures in mixing boards, balanced cable line receivers and line drivers. These structures almost invariably use a discrete input device, with open loop gain (for linearity) and load driving capability provided by an ordinary op-amp which may itself have fairly poor noise specifications.

3. When a load requires more drive current, because of its low impedance, than a monolithic op-amp can provide without overheating or current limiting. Because discrete op-amps have high current drive capability, supporting circuitry impedances can also be scaled down within the application circuit. This will reduce the overall system noise, without increasing distortion and provide higher headroom performance.

4. When a load must be driven to higher voltages than a monolithic IC can sustain between power supply rails. Monolithic IC op-amps are mostly restricted to supply voltages of ±5 to ±18 volts. Discrete operational amplifiers provide a viable alternative because they can operate in excess of ±24 volts.

5. When it is required to provide a low voltage supply to run a few monolithic IC op-amps. The cost of extra transformer windings, rectifiers, filter capacitors, regulators, and added complexity of powers supplies can be eliminated with the use of discrete op-amps.



All specifications subject to change without notice. The information provided herein is believed to be reliable; however; Sonic Imagery Labs assumes no responsibility for inaccuracies or omissions. Sonic Imagery Labs does not warrant or authorize any Sonic Imagery Labs products for use in life support devices and/ or systems.



Loading
We are an AES member


Member of NAMM




Sonic Imagery Labs
on eBay
Click the eBay logo
to see special items
we might have for sale